Sacred Harp Musical Heritage Association
The Sacred Harp Musical Heritage Association (SHMHA) is a 501(c)(3) non-profit organization (EIN 63-1216235) whose purpose is the preservation and perpetuation of Sacred Harp singing and its traditions. SHMHA's interests include Sacred Harp music, history, traditional singing practices, singing schools, singings, and conventions. SHMHA holds its annual meeting with singers on Saturday before the fourth Sunday of November at 2:00 p.m. at the site of the Alabama State Sacred Harp Convention.
Minutes Book
The Sacred Harp Musical Heritage Association is delegated the responsibility for the publication, printing, and distribution of the Directory and Minutes of Sacred Harp Singings by the Alabama Sacred Harp Musical Association. This publication has an annual circulation of 2,000 to singers worldwide. Judy Caudle is the Minutes Secretary and Editor. To read or order copies, please visit fasola.org/minutes.
Camp Fasola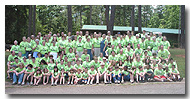 Camp Fasola is a summer camp that provides an immersive experience for learning Sacred Harp shaped note singing, history, and traditions. Multiple daily sessions are devoted to teaching Sacred Harp singing as well as times for singing, fellowship, and recreation. This experience provides a casual environment for learning and singing this unique American a cappella music form, which has its roots in early America.
Camp Fasola is open to youth and adults with instruction provided for both beginning and experienced singers. Multiple tracks of classes suited to different experience levels are taught each of the three full days of camp. Traditional summer camp activities focused on building and extending friendships of singers are provided. The final camp night features a community singing event in which non-campers from the broader Sacred Harp community gather to sing with the campers.
The five day/four night camp has been held annually since 2003 with more than 2,500 campers participating. Two sessions per summer have been held since 2008. Camp Fasola Europe was held in Poland in 2012, 2014, 2016, and 2018. Camp Fasola has received national recognition as a highly effective traditional singing school project for the purpose of preserving and extending Sacred Harp singing for the next generation of singers.
Tax Deductible Gifts
SHMHA gratefully accepts tax deductible contributions of cash, stock, or other property to support Camp Fasola and other projects to promote Sacred Harp singing. Memorial or in honor tributes can be acknowledged at your request. Cash contributions (make checks to SHMHA or Sacred Harp Musical Heritage Association) may be sent to the SHMHA address below.
In Sweetest Union Join CD Recording
In Sweetest Union Join is a 2-CD recording of the 96th session of the United Sacred Harp Musical Association at Liberty Church, Henagar, Alabama. It features over 60 songs and spoken word excerpts from this well-attended, memorable event and includes a full color booklet with historic photographs, including rare images of the 1959 convention. To order the CD set by mail, please send check payable to SHMHA for $25 (postage included) to the SHMHA address below.
Board of Directors and Officers
Lauren Bock, Vice President
Judy Caudle, Minutes Secretary
Jeannette DePoy, Secretary
David Ivey, President
Jim Neal
Pam Nunn, Treasurer
Jonathon Smith
Samuel Sommers
Terry Wootten
Address
Sacred Harp Musical Heritage Association
8021 Randall Road
Huntsville, AL 35802