Resources

How to buy The Sacred Harp (1991 Denson Edition)
The Sacred Harp Publishing Company is the non-profit publisher of the current and future editions of The Sacred Harp (1991 Denson edition). It also acts as caretaker of the Sacred Harp Museum in Carrollton, Georgia.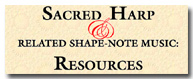 Steven Sabol's Resource Guide
A complete list of other hymn books, recordings, books of history, hymn poetry, etc., and how to locate and purchase most items, can be found in the Sacred Harp and Related Resource Guide written by Steven Sabol and edited by Prof. Warren Steel.
The guide includes over 120 Facebook groups related to Sacred Harp and shape-note singing around the world, from Korea and Australia eastward through North America and Europe to Israel.
Sacred Harp Videos on YouTube
Please visit the Sacred Harp Videos Channel on YouTube for a large collection of videos from singings.
Beginner guide
Lisa Grayson publishes an excellent beginner guide to hand out to newcomers at large or small singing events.
It is designed to be photocopied on letter-size paper to produce a 9-page double-sided booklet. Local singing organizers can fill in details of local happenings such as contact information and singing dates on the bottom of the back page before photocopying.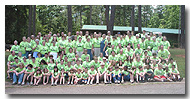 Camp Fasola
Camp Fasola is an annual summer camp, begun in 2003, for both youth and adults, beginners and experienced singers, devoted to teaching Sacred Harp singing, as well as time for recreation, rest, fellowship, and singing.
Classroom guide
The Smithsonian Institution's Center for Education and Museum Studies, which publishes the magazine Smithsonian in Your Classroom has published a free online version of an issue titled "A Shape-Note Singing Lesson." It is available for free download here.
Other web sites
See the Links page for other web sites created by singers to help describe or promote Sacred Harp.
See the Singings page for a list of web sites for local singing groups around the country.
Indexes
See the Indexes page on this site.